MLK Day : Where Do We Go From Here?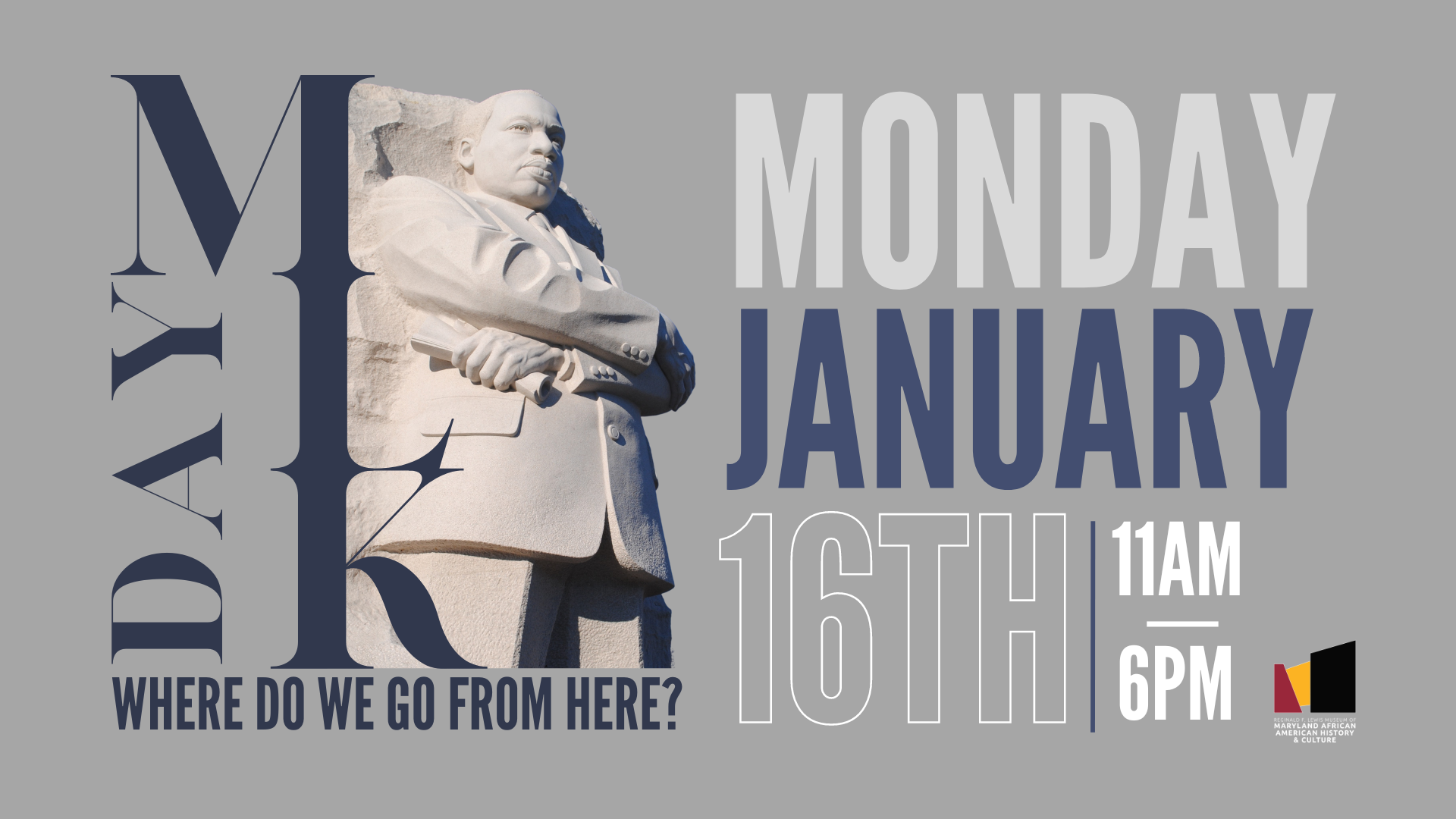 Martin Luther King Day: Where Do We Go From Here: Chaos or Community
Monday, January 16, 2023 | 11am – 6 pm
Commemorate the King Day Holiday at The Lewis Museum as the museum reflects on prophetic themes from Dr. King's last book, Where Do We Go From Here: Chaos or Community, in which King analyzes the future state of America's race relations in regard to jobs, poverty, education, housing, wages, and voting.  Presentation activities include:
Opening Remarks from Director Terri Lee Freeman | 11am | Location: Reginald F. Lewis Museum Theater
Don't Bother Me, I Can't Cope | 12pm – 1 pm
Location: Reginald F. Lewis Museum Theater
Dance & Bmore presents Bmore Broadway Live featuring performances by their youth group AMP Up! and the cast of "Don't Bother Me I Can't Cope," a groundbreaking Broadway show centered around the African American experience in relations to tenements, slumlords, ghetto life, student protests, black power, and feminism. Learn about the show's creators, Micki Grant and Vinnette Carroll, the first Black women to write and direct on Broadway in 1972. See excerpts of Gospel, Jazz, Soul Calypso, and spoken word through vibrant song and dance directed and choreographed by CJay Philip.  A community talkback on this work with the cast and audience members will follow the presentation.
Keith Snipes and Company: Let Freedom Sing | 2 pm – 3 pm
Location: Reginald F. Lewis Museum Theater
Join us as we welcome Keith Snipes and Company for an inspirational tribute to democracy and freedom. This show pays homage to the ideals of the civil rights movement and its most ardent leader, Dr. Martin Luther King, Jr. It is comprised of a rich collection of songs and poetry reminiscent of the movement, including King on Jazz, What's Going On (The All American Reality Show), A Stone of Hope (Original Spoken Word), Brother Where Are You (Oscar Brown, Jr.)  and Someday We'll All Be Free (Donny Hathaway).
This masterful quintet features American jazz bassist and band leader Obasi Akoto, trumpeter DonVonte McCoy, pianist Allyn Johnson, drummer Eric Kennedy, and vocalist Keith Snipes. Let Freedom Sing will leave you feeling rejuvenated, fortified, and prepared to meet the moment.
Included with Museum Admission | Donate non-perishable food items and get 50% off admission!
RSVP Here
Criminal Justice Reform Symposium in Partnership with the Greater Baltimore Urban League, the Baltimore Branch of the NAACP & the Downtown Partnership of Baltimore
4 pm – 6pm
Location: Reginald F. Lewis Museum Upper Lobby
Free and open to the public
The Greater Baltimore Urban League – in partnership with NAACP, Reginald F. Lewis Museum & Downtown Partnership of Baltimore – will host Criminal Justice Reform: The Role of Legal Systems in Civil Rights Symposium & Honoring Ceremony, on MLK Day from 4pm to 6pm. The Lewis Museum's executive director Terri Lee Freeman will provide welcome remarks and context for why criminal justice reform is important to discussions on Rev. Dr. Martin Luther King, Jr. We will then hear from those impacted by challenges in the criminal justice system including Erania Pretty and Marlow Bates, Sr. The afternoon will conclude with a panel discussion with and recognition of modern-day civil rights advocates who have worked to move us to a more equitable Maryland. Panelists will include:
Hon. Wanda K. Heard, Chief Judge, 8th Judicial Circuit of Maryland (RET)
Hon. Marilyn Mosby, Former State's Attorney, Baltimore City
Attorney Warren A. Brown
Attorney William H. "Billy" Murphy, Jr.
Major Milton L. Corbett (RET)