Healing Through Literature: Book Conversation and Creative Writers' Workshop with Marita Golden
October 29, 2022 @ 1:00 pm

-

4:30 pm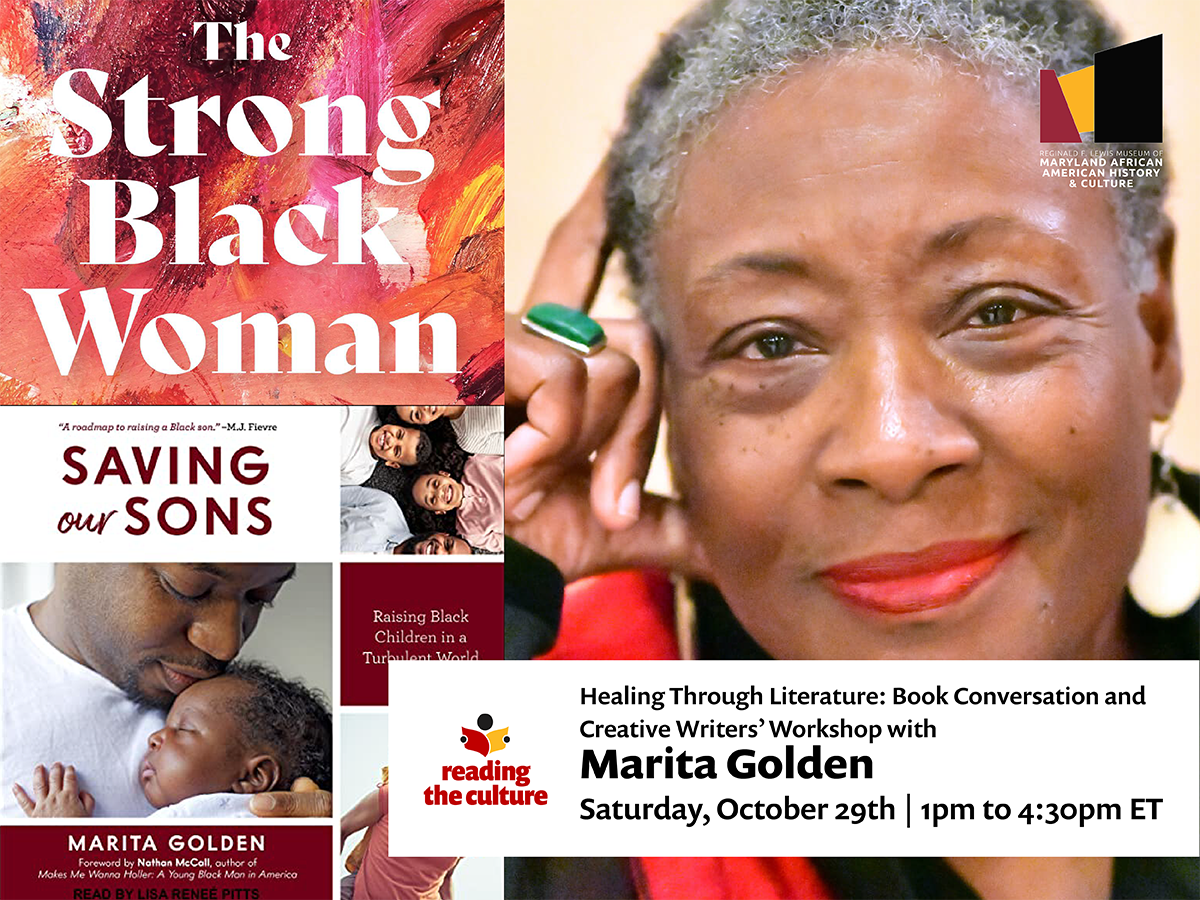 Healing Through Literature:  Book Conversation and Creative Writer's Workshop with Marita Golden
Saturday, October 29, 2022
Book Conversation and Signing | 1 pm to 2:30 pm
Creative Writers Workshop | 3 pm to 4:30 pm
In-person
Note:  Registration to  Creative Writer's Workshop Registration also includes admission to the  Book Talk Conversation with Marita Golden.  Contact terry.taylor@lewismuseum.org if you have any questions.
More and more young Black women are re-examining the Strong Black Woman syndrome and engaging in self-care practices that change their lives.
                                                                                                                                       – Marita Golden, The Strong Black Woman
The "strong Black woman" trope has often dictated not only how Black women are seen, but also how Black women are pushed to see themselves. Join The Lewis Museum and author and writing coach Marita Golden for a book discussion and workshop exploring how we move beyond the pressure to be "strong Black women," to develop practices of reflection and care.
The afternoon will begin with a conversation between award-winning author and co-founder of the Hurston/Wright Foundation, Marita Golden and Dr. Izetta Autumn Mobley. The discussion will focus on reparative pathways of healing utilizing Golden's two books, Saving Our Sons: Raising Black Children in a Turbulent World and The Strong Black Woman: How a Myth Endangers the Physical and Mental Health of Black Women.  A book signing will follow.
Then, join Marita Golden for a creative writing workshop designed to use writing as a powerful  form of healing and therapy to the soul.  In this interactive session, participants will engage in discussion and writing exercises to give voice to their experiences and unspoken emotions.  Participants should bring a notepad and pen.   Registration is required as space is limited.
Marita Golden is an award-winning novelist and author of more than 19 works of fiction and nonfiction. Her books include The Strong Black Women, After, Migrations of the Heart, Saving Our Sons, and Don't Play in the Sun. She is a distinguished teacher of writing and  the co- founder of the Hurston/Wright Foundation, an organization that supports African American writers.
Workshop Registration
Conversation Registration