Do You See Me: The Injustice of Breonna Taylor and Black Women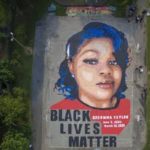 March 13th marks the one year anniversary of Breonna Taylor's death by Louisville police officers.  In observance of this month's anniversary, join the Reginald F. Lewis Museum in a conversation on the silent recognition concerning police brutality enacted on  Breonna Taylor and other black women in recent history. 
Program Starts: 7 PM EST
Participating Panelists:
Dr. Kimberly R. Moffitt

is Interim Dean of the College of Arts, Humanities, and Social Sciences, professor of Language, Literacy & Culture and affiliate professor of Africana Studies at UMBC. Her teaching interests include culture, media studies/criticism, Black hair and body politics, sports and media, and popular culture.

Dr. Vesla Mae Weaver

  (Ph.D., Harvard, Government, and Social Policy) is the Bloomberg Distinguished Associate Professor of Political Science and Sociology at Johns Hopkins University and a 2016-17 Andrew Carnegie Fellow. She has contributed to scholarly debates around the persistence of racial inequality, colorism in the United States, the causes and consequences of the dramatic rise in prisons, and the consequences of rising economic polarization.

Dr. Kali-Ahset Amen

is an interdisciplinary social scientist, exhibition curator, and organizational strategist. Her scholarship and intellectual activism focus on racism, black subjectivities, and urban inequalities in Central America and the U.S. South. She is an assistant research professor of Sociology and the associate director of the Billie Holiday Project for Liberation Arts at Johns Hopkins University. Previously, Kali-Ahset was associate director of the James Weldon Johnson Institute for the Study of Race at Emory University in Atlanta, GA.

Thenjiwe McHarris is currently in leadership within the Movement for Black Lives and is the co-founder of Blackbird, an organization that focuses on movement building in this current historical moment. She honed her human rights campaign development and organizing skills while working for and with movement building collectives and international organizations over the past 15 years. Before Blackbird, Thenjiwe served as senior leadership in the US Human Rights Network and led advocacy efforts at Amnesty International.