Learn About the Museum
education 
Take a virtual museum field trip through the museum  galleries to learn about the African American experience in Maryland to include their achievements, their pursuit of freedom and their fight for social justice from the colonial period to present day. A museum activity sheet is available for each school tour.
Time: 45 – 60 minutes
Fee:
Maryland Title I Schools/ Free Lunch Programs – Free

Other K-12 Schools/Universities – Group rate $125 (up to 50 students). Additional cost for larger groups.

Community Youth Organizations/Home School Groups – Group Rate $60 (up to 30 students)

Pricing considerations may be made for groups with budgetary restrictions.  

Click HERE to Request Your Virtual Tour!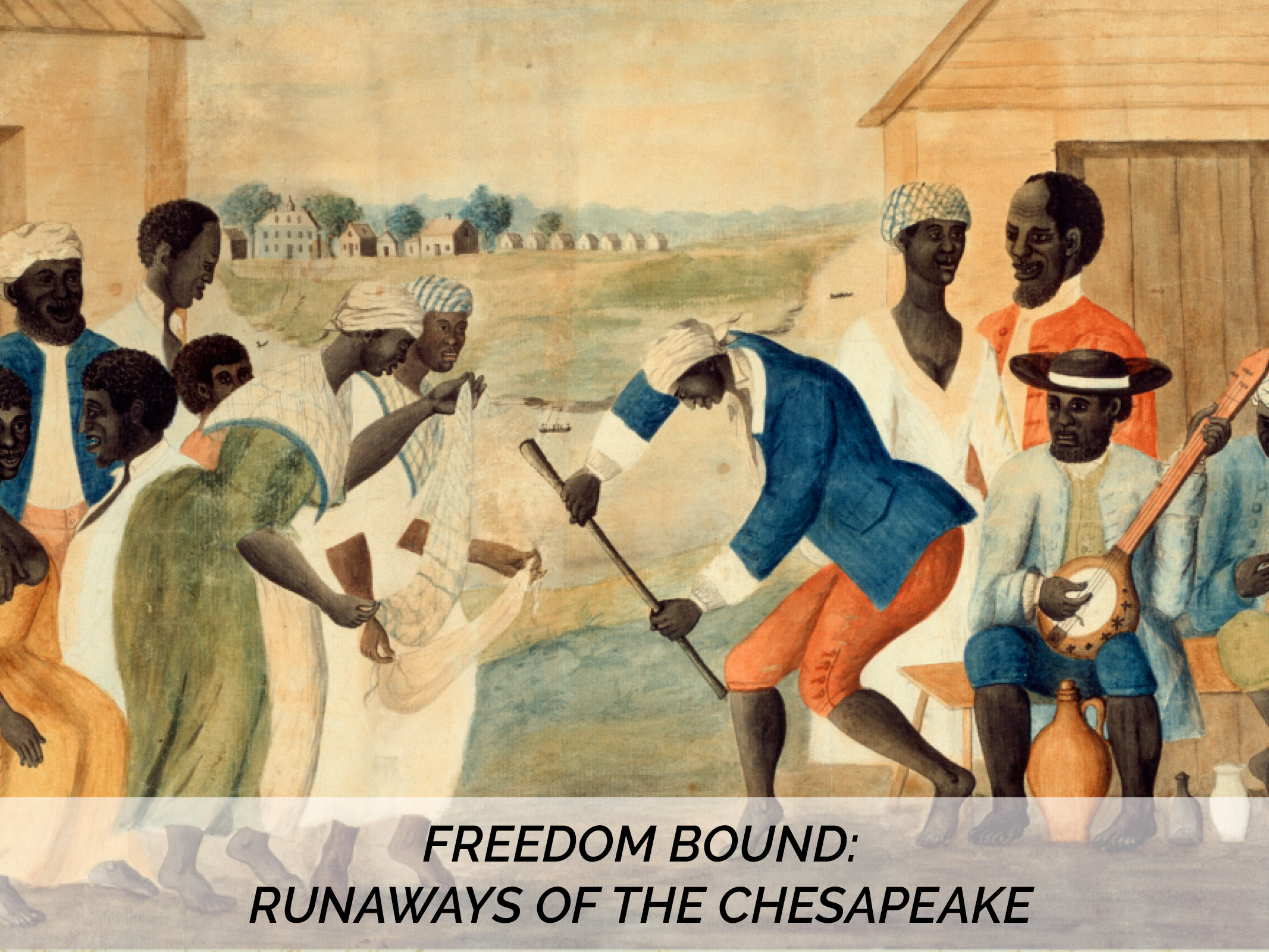 Freedom Bound: Runaways of the Chesapeake
Explore stories of resistance to bondage and servitude in the Chesapeake Region from the Colonial Period to the American Civil War (1728-1864) by meeting nine bound workers—slaves, indentured servants, and convict servants— who asserted control over their own lives by running away. Students will analyze their runaway ads from the Maryland Gazette and view recorded living history vignettes during this guided virtual experience. Grades: 4 – 12

Tell Our Story: A Tribute to Robert Houston
Tell Our Story, A Tribute to Robert Houston is an assemblage of photographs and photographers whose narratives are grounded in empathy yet focused on contemporary social commentary. Houston's sense of humanity as seen through various portraitures also expands into the photo documentation of the 1968 Poor People's Campaign and Resurrection City where he documented the daily lives and activities he saw on the National Mall. Devin Allen, Dee Dwyer and J.M. Giordano, both Baltimore and Washington DC based photographers,  focus on the importance of community and crafting an image as a social statement. Their contributed images document the beauty and struggle of everyday life, the 2018 Poor People's Campaign: A National Call for Moral Revival, the Freddie Gray uprising and Black Lives Matter protests in Baltimore and Washington, DC.  Grades: 3-12
Permanent Exhibition
Heritage Tour (Grades 3-12): Experience the rich cultural heritage and contributions of Maryland's African American community by connecting with individuals, places, and traditions that spans over 300 years.
Paths to Freedom (Grades 4-12): Explore the story of slavery through the eyes of enslaved and free blacks from Maryland's colonial past through the end of the Civil War.
Fight for Justice (Grades 4-12): Examine the contributions made by Maryland African Americans during Jim Crow and the Civil Rights Movement in the battle for equality.
Make Good Trouble: Marching for Change
The nation and the world took to the streets this summer to protest the death of George Floyd and system racism in order to activate change. Examine the local protests in Maryland via protest signs, photos and political buttons. Grades: 4-12
Digital Living History Programs: I, Too, Am America
Experience the cry of  freedom, equality and activism through the voices of Maryland African American freedom fighters and trail blazers.  Digital living history presentations are portrayed within the backdrop of the museum's galleries interwoven with historical images. Historical figures include: Harriet Tubman (abolitionist), Benjamin Banneker (abolitionist), Mother Mary Lange (educator), Juanita Jackson Mitchell (legal eagle) and Verda Welcome (politician). An activity sheet  on activism and/or a live Q &A with the presenter is available.
Presentation Length: 25 minutes/ 45 minutes with live Q & A
Fee:  $60 Viewing; $100 with live Q & A chat. Accessible for up to 1 week.
Click HERE to Request Your Living History Experience!

Benjamin Banneker


Harriet Tubman


Mother Mary Lange

Juanita Jackson Mitchell

Verda Welcome